Aloha, I am Scott Wetsel founder and owner of South Pacific Glass Restoration, Inc.
SPG specializes in restoring, sealing & maintaining all types of glass surfaces. I have currently been doing business on the Hawaiian Islands for the past 18 years. SPG originally started doing business on Oahu helping the city and other local companies remove Graffiti from their storefront windows. After becoming more involved with the Glass Restoration industry, I started to learn more about the hard water issues that we all face living on the islands. After many years trying to find the best system that can restore your glass, I recently came up with a unique restoration process that's proven to be very efficient and produces a higher quality finish than other systems on the market today.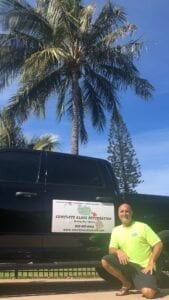 After a few years on Oahu, the owner of SPG, Scott Wetsel started researching the Glass Restoration market on the outer islands. Having frequently visited family on the island of Maui, I recognized the need for my services. After doing some research and deciding where to live on the island, I packed up and moved my services to the Valley Isle.
After many years of hard work and dedicating myself to give the best quality of restoration and customer service skills, we have now become Maui's leading provider of all Glass Restoration Services. Through my extensive 18-year experience in the industry, I have developed a unique system and a combination of proven products that deliver a quality product and service to our customers. Our customers include some of the largest contractors on the Hawaiian Islands, property managers, hotels, local housing contractors and residential customers as well.
We dedicate ourselves to providing you with the best quality of glass restoration services. We take pride in all of our work to make sure every customer is 100% satisfied! Replacing glass is from the past! Remember, RESTORE, DON'T REPLACE! Please call our office today to schedule your appointment for a free consultation with one of our glass experts!